Blog
What the Heck Is a Delivery Exception? And How to Avoid It

What are delivery Exceptions and the response to a delivery abnormality in e-commerce enterprises?
In today's society, online shoppers expect to receive their purchases quickly and accurately. Customers are understandably displeased if an order is incorrect or delivery is delayed. You may have even checked your tracking status and seen that it was marked as an exception, impacting the delivery date. Shipping carriers do their best to ensure that packages arrive on time. However, there are times when it is out of everyone's control. Though this is just a part of life, it's essential to be prepared for such occasions and respond to customers when it does happen, as it can affect whether they choose to shop from you again.
What is the delivery exception, and how does it impact e-commerce shipping?
What does delivery exception mean?
When a package is temporarily stalled in transit for an unexpected reason, it is a delivery exception. This does not necessarily mean that the package will arrive late, but rather that an obstacle or roadblock has caused the delay. To ensure customers can track their packages, carriers like UPS and FedEx provide them with a tracking number.
The Impact of Delivery Exceptions
Delivery exceptions are something that no one wants to deal with, as they can be costly for businesses, customers, and even shipping carriers. Small business owners, in particular, are heavily impacted by delivery exceptions. They often have to absorb the cost when packages are not delivered on time, lost, or stolen. This is especially difficult for small business owners with low-profit margins.
Delivery exceptions put customer relationships at risk
When a consumer purchases your product from the Internet, they are doing business with you, not with a courier company. Therefore, even if the courier loses your package, you are still responsible for it.
Delivery exceptions hurt your bottom line.
Late shipments can slash profit margins for small businesses if shipping charges are refunded.
5 common causes of delivery exceptions
While most online shoppers receive their packages on time, you will likely encounter delivery exceptions. Here are the typical culprits.
Customs delays
Shipping internationally can take time and effort. Packages can sometimes take longer than expected to pass through customs, leading to missed delivery dates. Ensure you have the correct tariff codes per SKU to make the shipping process smoother.
Federal holidays
If a national holiday occurs while a package is in transit, it may be delivered late. This is because shipping carriers will not be operating on federal holidays and will have a backlog of shipments to make up for when they return to work.
Weather conditions
In the event of extreme weather or a natural disaster (e.g., hurricane, tornado, wildfire, or flood) that makes it impossible to access a delivery route, the package may be subject to delay. These random, unpredictable delays, often called "acts of God," usually occur in a localized area.
Damaged or missing labels
The package could be held up if the shipping label is damaged and the carrier can't read the delivery address or shipping barcode. This is because an exception code will be generated when essential details can't be made out or scanned.
Similarly, packages that contain a label with an incorrect address, resulting in undeliverable, unrecognizable to the carrier, etc., will be stuck in a delivery exception.
No one is home to sign for the package
Packages may be delayed if they require a signature at the time of receipt and no one is home to accept the package. Delivery will usually be reattempted the next day when the recipient is unavailable.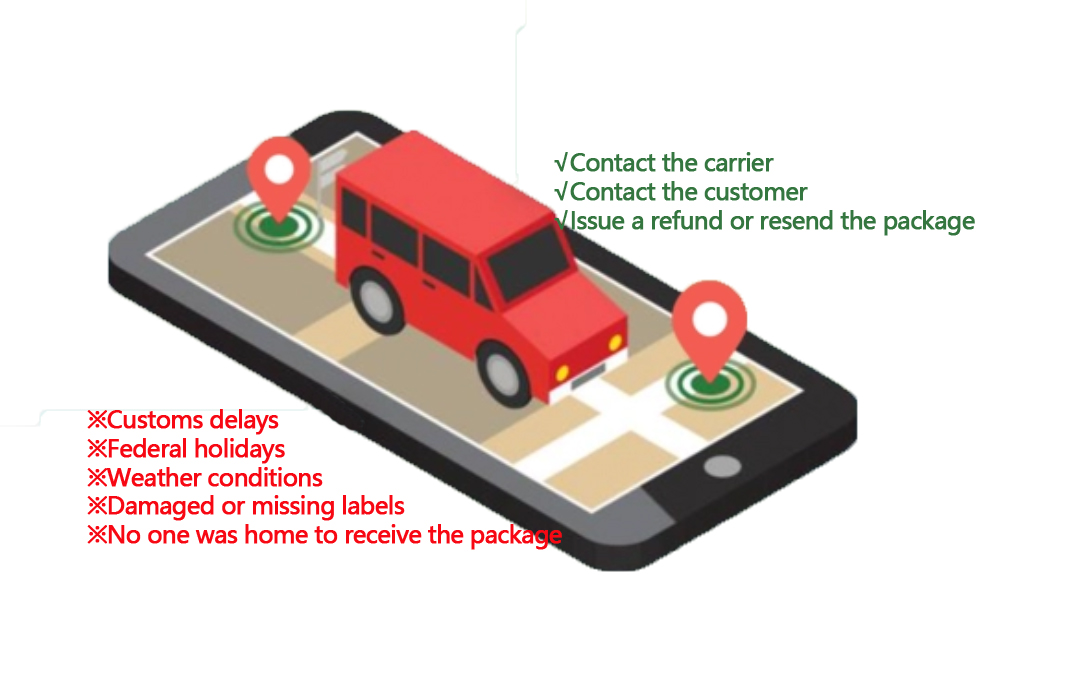 How should e-commerce businesses respond to delivery exceptions?
Contact the carrier
If you are using FedEx, you should have the tracking number to track the package and its exact location. You can also share this tracking number with the customer, allowing them to track the shipment. Additionally, you may find the reason for the delivery exception online.
Contact the customer
If the customer's shipping address needs to be discovered or corrected, contact them to check for accuracy and make necessary changes. If there are any delays and the reason for them (e.g., bad weather that closed the shipping location or made the carrier stop operations), tell the customer about the delay and why it is happening. Email those affected, apologize for the delayed shipment, and thank them for understanding. Any chance to turn a negative situation into a positive experience will be remembered for future sales and deliveries.
Issue a refund or resend the package
If the package cannot be delivered or has been damaged during its journey, customers should be contacted regarding a refund or a resend. Depending on the shipping insurance for that package, the cost may be fully covered if it was damaged in transit.
Related Articles