Multichannel 3PL Fulfillment
Regardless of your business size, our Third-Party Logistics (3PL) service is here to help you scale more quickly by delegating the challenges of managing order fulfillment, inventory, and even return service.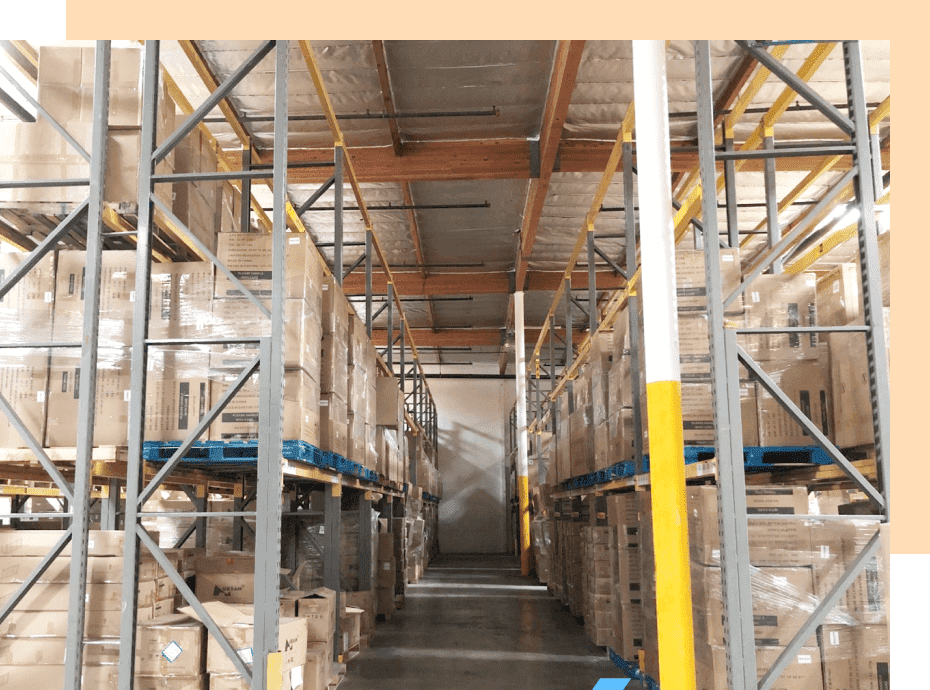 What is 3PL (Third Party Logistics)?
3PLs outsource the logistics part of running your business. You know, all the fun stuff you do on the daily like packing boxes and making multiple, sometimes frantic, trips to the post office. But here's the catch: eventually, it gets way more complicated. This can quickly become a three-part chain that is at least three-ties longer than you may be ready for.
3PL Partners Can Provide All of the Following
Pick & Pack
We have the capacity to complete over 10,000 orders per day, in addition to utilizing an automated order fulfillment system to assure efficient and precise picking and packing. Pay as you go allows you to only pay for the services you use with ShipA2Z. It's that simple.
Cost-Effective & Flexible Shipping
ShipA2Z's background as a 3PL and our extensive professional network allow us to work some serious shipping magic and provide best-in-class service to our merchants. The best thing is that these significant savings are transmitted straight to you and your customers thanks to our alliance with many of the world's most reputable carriers. As a result, you have complete control over your shipping costs and the invaluable assurance that your deliveries will always arrive on time.
Powerful Software
The ShipA2Z software can automatically map SKUs across different sales channels and bundle an infinite number of product combinations thanks to our API connectors, allowing you to update your product offerings without worrying about tracking, inventory levels, or fulfillment.
Intelligent Storage & Third-Party Warehousing
Our system for third-party warehousing has been thoughtfully created to assign specific products to an ideal, designated area, which ultimately leads to reduced storage fees. We actually charge daily for storage, unlike the majority of third-party logistics and order fulfillment companies, so you only pay for the days you use. Additionally, each of our facilities is outfitted with a cutting-edge security system to safeguard your valuable inventory.
Returns Management
Maintaining hassle-free returns and exchanges is essential and crucial for maintaining customer satisfaction at an all-time high.And this is where our expertise in third-party logistics is useful. Our customized solutions ensure that returns and exchanges are neither time-consuming nor expensive, but rather a positive experience for both you and your consumers. In addition to accepting returns from a variety of product categories, we can also quickly exchange SKUs for different sizes and colors, perform product testing, assessment, and sorting, and accept returns from a wide range of product categories.
Custom Packing Procedure
Custom packing processes are available from ShipA2Z and can be used in a wide range of situations. Whether it's removing manufacturer labels, stripping away bulk packaging, or kitting products into bundles, we can do it all. Occasionally, we'll receive products that need to be modified, but worry not. While other 3PLs choose to focus on quick turnarounds at the expense of some wiggle room, ShipA2Z maintains enough flexibility to meet your needs without slowing down.
How Does a 3PL Work?
You focus on marketing and selling your products; we'll handle the rest. Our software will automatically import orders by syncing with your online shopping cart through our unique API connectors. From there, we will pick, pack, and ship each order promptly. The best aspect is that our process is completely scalable and flexible, so regardless of how quickly your business expands, you can be sure that every order will receive the same excellent service.

3PL Benefits
Top 5 benefits of outsourcing your fulfillment service
Focus on growing your business
Cut costs
Efficient storage and distribution
Scale your business with fewer headaches
Enter new market more easily
Sure, there are benefits to handling fulfillment on your own. It is initially cheap and simple to set up. However, as your company and inventory expand, it may easily outnumber other management tasks in terms of time and complexity. Because of this, working with a fulfillment company can completely alter your company. With simple integrations and numerous pping options, the right FC will not only manage every stage of the order process but also assist you in breaking into new markets. Storing, organizing, and shipping your orders at an enterprise level reduces the cost of errors and returns.
Order fulfillment is difficult, and doing it while scaling can greatly affect the success or failure of your start-up. Your start-up may concentrate on developing and learning while having a polished pick-pack-ship fulfillment process with the aid of a fulfillment partner and cutting-edge technologies.
Why ShipA2Z?
Stress Less, Grow More
At ShipA2Z, we pride ourselves on being one of the most reliable 3PL (third-party logistics) providers for eCommerce businesses, subscription box companies, and crowdfunding campaigns of all sizes. You may be sure that you can "Stress Less, Grow More" since our fulfillment centers are supported by the most cutting-edge order, inventory, and inventory management software in the business. Whether you're just getting started or shipping 100,000 orders a month, our proprietary software from ShipA2Z can interact with more than 150 shopping carts and marketplaces for the smoothest transition possible.