Blog
Choosing Your Fulfillment Warehouse Locations
Warehouse Management
02/27/2023
As an eCommerce startup, your fulfillment strategy is constantly evolving. Initially, you might utilize a spare room or garage as your fulfillment warehouse. As you expand, you may rent warehouse space and hire staff to pick, pack, and ship your orders. Ultimately, you will likely decide to outsource your storage and shipping to a third-party logistics (3PL) service provider. When choosing a 3PL services provider, location is the key factor. You want to ensure your fulfillment warehouse is close enough to your customers to deliver orders promptly but not so spread out that it complicates your inventory management and increases costs.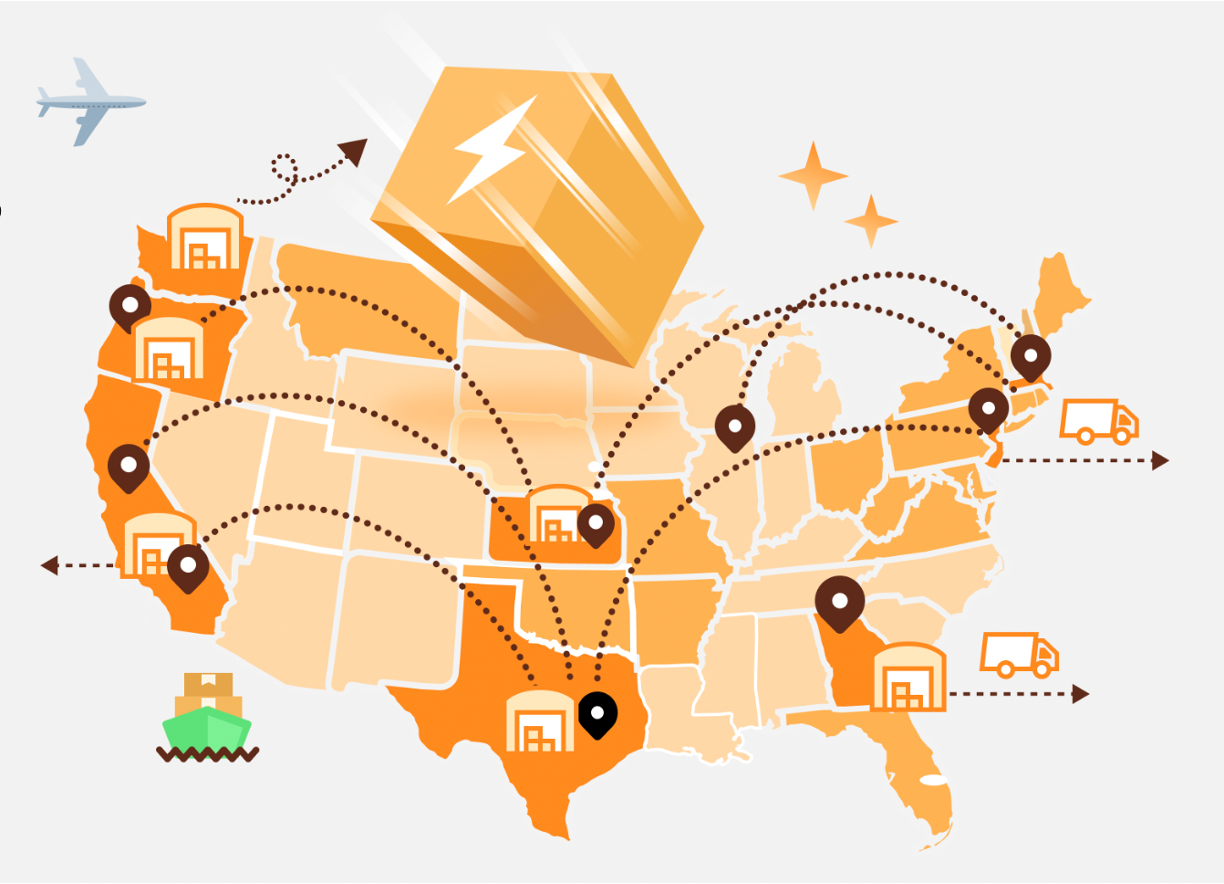 Get Close To Your Customers
If your company's products have expiration dates, and your company is experiencing tremendous growth, but with it comes a rise in shopping cart abandonment due to extended delivery times and high shipping costs. With customers from across the United States, you must find a new way to get your delicious treats to your loyal fans. To do this, you must consider a multi-location fulfillment warehouse strategy that considers where your customers are. With the right approach, it can ensure your customers get their candy fast and at a reasonable cost.
Your business has been rapidly growing, and it has become too much for your employees to manage shipping orders directly from the production facility. To keep up with the volume, you better find a third-party logistics (3PL) provider that offers multi-warehouse fulfillment and can provide fast, efficient eCommerce fulfillment to customers across the U.S., from the East Coast to the West Coast and all points in between. Speed is of the essence, as her products have a limited shelf life.
To determine the best fulfillment warehouse locations for your business, consider mapping out where you commonly deliver online orders. Are your customers primarily concentrated in specific geographic regions or spread evenly across the country? Answering these questions will help you effectively plan your warehouses' locations.
Where do your customers live?
Demographics
If you have an online store, your customers may live all over the world. It will be better to dive into your customer to figure out the best warehouse location for order fulfillment service.
Where are your customer orders being shipped to?
What is the average transit time to the destination?
Which states or regions have the highest rates of cart abandonment?
The answer will often surprise you. More importantly, they'll give you the figures you need to make an informed decision when choosing the location of your fulfillment warehouse.
If you have customers throughout the United States, choosing multiple fulfillment centers with warehouses that reduce average shipping times to reach the highest number of customers is best.
If your products are primarily sold in a few states, you may opt for a warehouse located in or near those regions.
The more distant your packages have to be transported (from the warehouse where they are stored to the address of the final customer), the more costly your shipping fees will be. Keeping your products in conveniently located places can help cut shipping fees and add money to your profits.
Taxes
Each state's tax regulations and rules can impact the location where you choose to store your inventory. You must declare nexus if your business has a significant physical presence in a particular state, such as warehouses, inventory, offices, staff, agents, and representatives.
Who are you competing with?
Other sellers
Conducting a SWOT Analysis of your top 3 competitors can provide invaluable data on how your business can differentiate itself. For instance, assessing the delivery timeframes of your competitors in key areas can help discover any potential disadvantages. If your delivery to California takes 5-7 days and your competitor can deliver in 1-3 days, it is an evident threat to your business.
Transit time
By selecting a centrally located fulfillment center to store and send out your products, you can save costs and time. This is a great way to stay ahead of the competition on marketplaces like eBay, Amazon, or Jet.com and make your business more efficient. Faster transit times are important in consumer purchasing decisions, and customers typically prefer free delivery. Choosing a fulfillment center in the right location can help you meet both needs.
Shipping cut-offs
Considering order cut-off time is another essential factor. If your only warehouse is in New Jersey and their daily fulfillment cut-off time is 1:00 pm EST, a customer ordering after 10:00 am PST will have their order fulfilled the following business day.
What are you selling?
Product Type
Unique or specialty products may be able to tolerate transit times greater than one week. However, items typically found in general stores are influenced by customers' desire for fast delivery. Similarly, products with expiration dates or requiring special care may benefit from a shorter shipping time.
If you sell products frequently given as gifts, having a shorter transit time on your free shipping option can be an excellent advantage for your business. Even though some customers will opt for an expedited shipping method, most shoppers prefer free shipping. Thus they will go for a company that delivers faster with its standard free shipping.
If your business sells heavy winter coats, storing your inventory in a warehouse in the Northern United States may make more sense. In contrast, a surfboard seller would be wise to ship inventory from a 3PL warehouse near the coasts.
Product weight
Suppose your business sells products that are lightweight (under 5 pounds). In that case, it may be less critical to store inventory in multiple 3PL warehouse locations since they can usually be shipped within 1 to 3 days to most places in the United States if your company uses flat-rate mailers such as USPS First Class or Priority Mail. On the other hand, if your company sells heavier products (10 pounds or more), multiple warehouse locations help cut shipping costs significantly.
Total SKUs
Storing and distributing inventory amongst multiple warehouses can be expensive if your business sells many different SKUs. But if it helps your company grow faster, it could be an essential part of your growth plan. In this instance, storing the most popular products in various warehouses may make sense and keep the slow-moving stock in the most central warehouse location.
Other benefits of multiple warehouse locations
Once your business has achieved a notable amount of sales and you can examine consumer buying trends, it might be time to switch from a single warehouse to multiple third-party fulfillment centers. Utilizing the assistance of a 3PL with a skilled team, which, like the ShipA2Z team, they can aid you in establishing the best inventory planning and fulfillment approach suited to your past sales patterns.
Utilizing 3PL services with multiple warehouse locations can benefit companies, as they can ship products from the warehouse nearest to the customer, reducing shipping costs with each purchase. It can be incredibly lucrative if your brand provides free shipping, as it can lead to more savings for your business with each sale.
Customers now anticipate free shipping as something commonplace. If your business does not provide this, it may be possible to store and transport inventory from numerous warehouses, which could reduce expenses enough that you could either lower your shipping costs or offer free shipping – either of which could help your company compete with other sellers in your field.
Related Articles