1. login to your OMS account
Log in:https://seller.shipa2z.com/login
2. Submit the outbound order manually
Order -> Create Order -> Add Product -> Select Service – Freight Delivery -> Recipient Information -> Additional Service->Preview Order -> Submit Order

Add Product
SKU/product name: only products already in stock can be selected.
Quantity: The number of products to be shipped for each order.
Pkg Qty: The Pkg Qty here will be automatically filled only when the product quantity in the order is one or when the "Number of products in a single package" is maintained in the product creation.
The system defaults to one parcel if there is only one product in a single outbound order.
There are two processing methods if multiple products are contained in one single outbound order:
If there is no need to split the boxes for inbound and outbound, the customer needs to fill in the  "Number of products in a single package" on "Inventory and Logistics" of "Products." When submitting an order, the system automatically identifies the outbound boxes Qty according to the product's SKU and quantity. (It is recommended to maintain when creating product information).
If the products need to be split into boxes for inbound and outbound, and the "Qty Per Package" is not maintained,  there is no definition of the number of boxes here. After the customer submits the order, the warehouse will manually split the order in the system according to the number of packages during the outbound operation.
Insurance:  If you need to purchase insurance service for shipping, you need to fill in the insurance declared value of the product when you create the product. The insurance information will be automatically brought out when the order is submitted, and you can choose the number of products that need insurance service. The cost will be deducted from the shipping fee.
Add product: For multiple SKUs in a single order, click "Add Product" to add SKUs.
Select service – "Freight Delivery"
ShipA2Z Carrier Delivery: After the order is submitted to the warehouse, the warehouse will fill in the size and weight of the prepared product, and the tracking number will be automatically generated when it is shipped.
Upload shipping labels: Customers provide shipping labels and fill in relevant logistics information to facilitate subsequent order tracking:
Carriers

Shipping Service

Tracking number

Shipping label upload
Shipping Signature Type: When using ShipA2Z logistics service and can be selected when signature service is needed.
ShipA2Z Freight: ShipA2Z's LTL service will be available if you choose this logistics service, and ShipA2Z will arrange for trucks to deliver the products to the destination.
Your Freight: You must use your own LTL service if you choose this logistics service. And you will need to provide a bill of lading and upload the attachment to the Message Board before submitting your order.
Additional Service
Click the corresponding option for the additional service"Need package mark attachment/Need SkU barcode attachment."
If you need the package mark attachment/ SKU barcode attachment, upload the corresponding label attachment file to Message Board.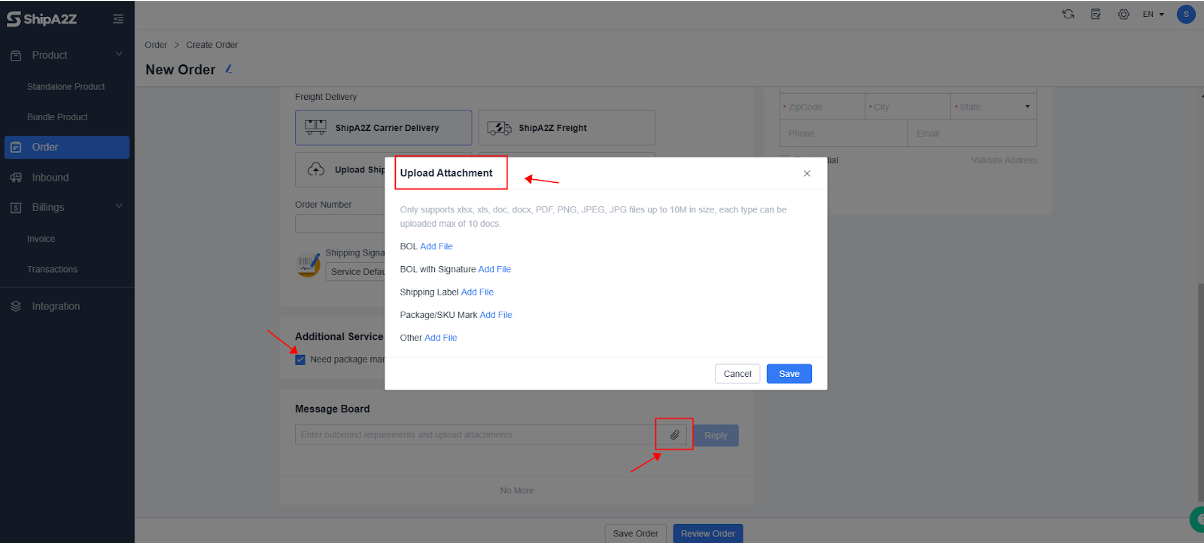 Ship To
FBA address: When the recipient address is an FBA address, you can select the FBA address.